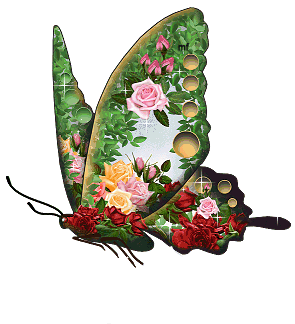 Situated a mile from Dartmoor in a quiet part of Plymouth we have been breeding pedigree cats for over 25 years.

I'd always wanted a cat as a child but with neither of my parents ever having had one and the neighbours where we lived then not being very cat friendly they were reluctant for me to have one.

When I was 10 years old I was diagnosed with leukaemia and had several years of chemo and radiotherapy. My parents were told at one point that there was nothing else that could be done for me.

My dad one night finally relented and said I could have a cat and so it all began.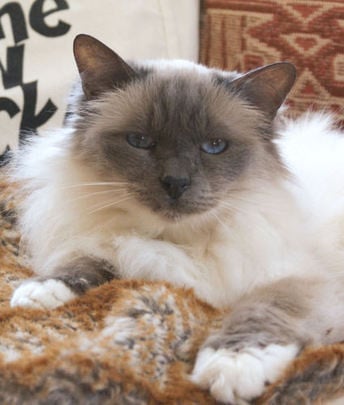 My first cat was a blue & white bicolour Persian called Muffin who was soon followed by the love of my life Shawn a blue pointed Birman. Shawn lived in my bedroom, slept in my bed and only left the room and returned when I did. He in the end was why I recovered.

Shawn was how I first discovered cat shows. His breeder told us there was a cat show being held in Newton Abbot and that they were accepting late entries. We quickly filled in the forms and a couple of weeks later attended our first cat show. Shawn won first in his open class & best of breed and from then I was hooked. My dad would then take me all over the country to show him. One time arriving home from working in Leicester only to load us all back up and turn around and drive to Lincoln. I remember this particular trip as Shawn had a new wicker carrying case with a little window in the front that my mum had found in a pet shop in Tavistock. On the way up Shawn suddenly appeared in the front of the car having eaten his way out of it!
My mum didn't become interested in the shows until much later when she eventually took over taking me for a while from my dad.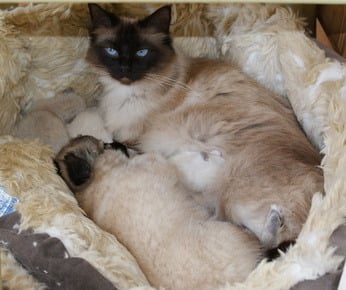 About a year after Shawn I had my first breeding queen. Abby a seal pointed very bad tempered Birman! We had a couple of litters from her before retiring her as we didn't like the temperaments she was producing and how cruel she was with her kittens.
My next girl was a blue point ragdoll which are similar in appearance to Birman's but much more laidback. We went on to breed and show ragdolls for over 15 years and I served on the committee of the Progressive Ragdoll Breed Cat Club as webmaster, co magazine editor and then secretary for a few years. I eventually decided I'd had enough of Ragdoll politics and decided to give up breeding altogether. There was so much bickering between clubs and I didn't want all this negativity in my life. I just wanted it to be about the cats who have always been the most important thing to me. In all my experience I have never experienced this within any other breed.
We only have one Ragdoll remaining now, Santino who was my last Ragdoll stud cat who was neutered and now lives the life of luxury indoors with his boyfriend Dazz and our other cats.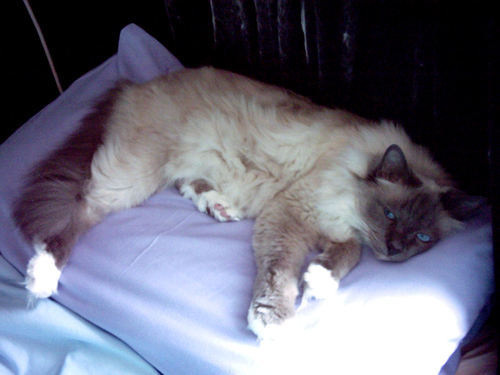 My beloved Shawn died in 2010 which left me absolutely devastated and is something I will never get over. He was more human than cat in the end and even had his own plate at the table next to me. (There is a secret page for Shawn hidden somewhere on this website if you explore you may be able to find it.)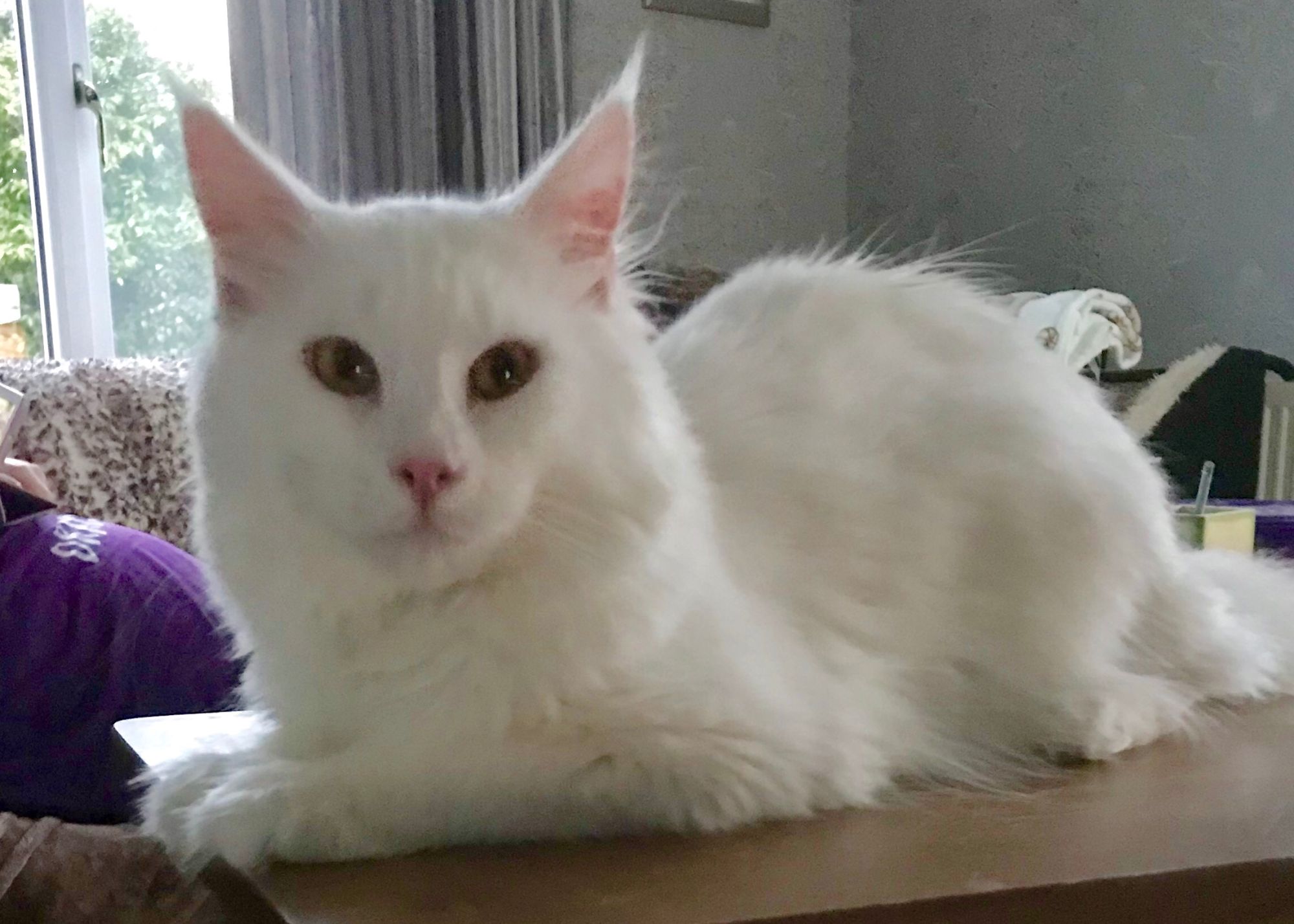 My best friend Mareen who now travels to the shows with me, my dad & my brother is a Maine Coon breeder, who we now work very closely with.
I can't remember the reason now but her stud boy Pang was staying with us one year over Christmas and I was going to show him for her in the new year at a couple of shows she wasn't able to attend.
Pang was love at first sight! He's a green eyed white Maine Coon and such a little (probably should say huge) darling. He was so intelligent and laid back at the same time. I love this boy like my own and love when he stays with us from time to time.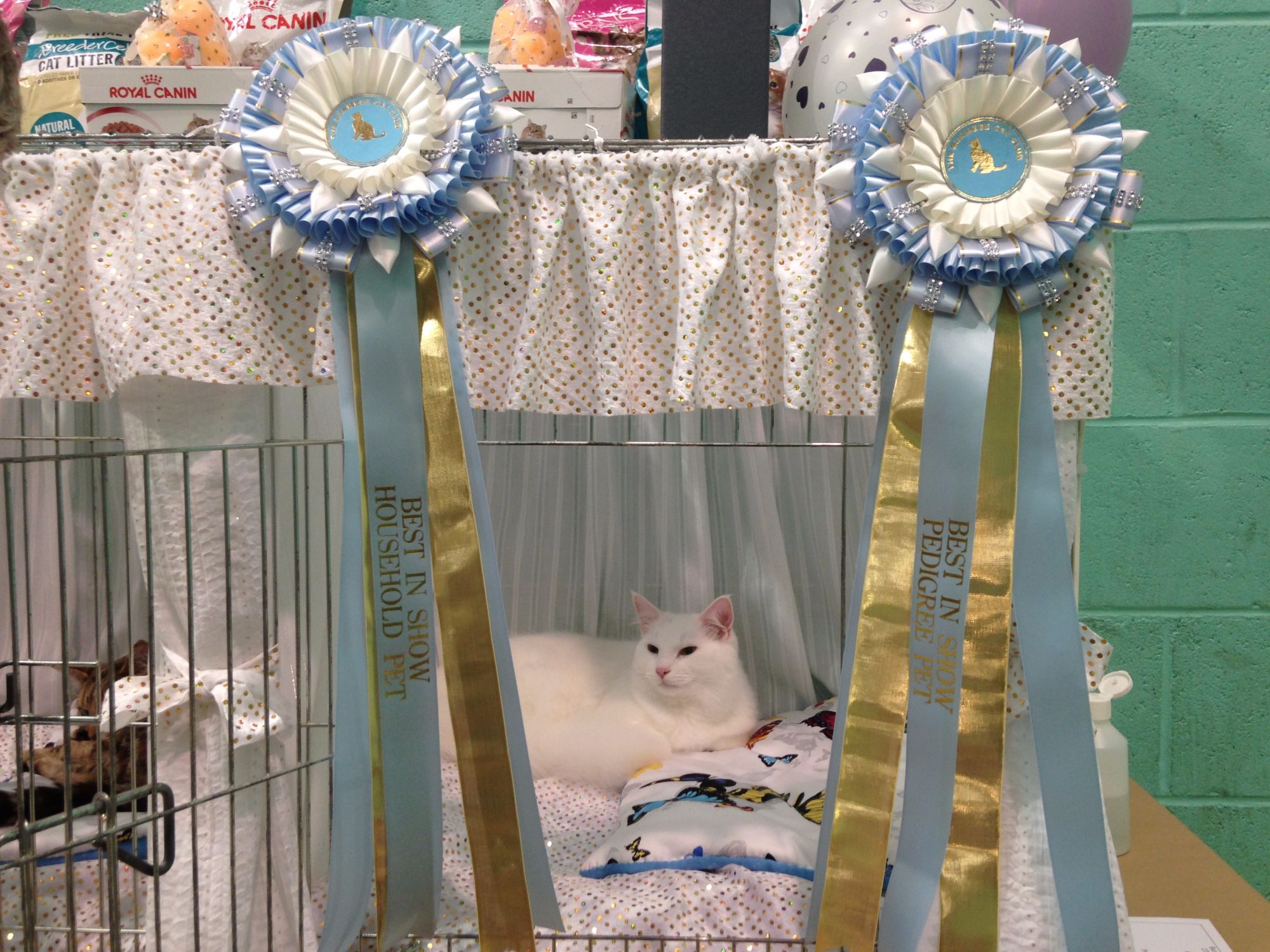 I soon acquired several female kittens from Mareen and eventually found my own stud boy Prince, an orange eyed white and my love of showing and breeding was back in full force.

I'm a sucker for bonding with cute kittens with huge personalities which is why I have several neutered males that I've kept only to show, cuddle and coo over. You can see more on them in the our family and show pages.
Today I still have a lot of health problems stemming from the treatment for leukaemia and have to use a wheelchair when I go out. I have fibromyalgia, CKD stage 3, sleep apnea, avascular necrosis to name only most of the major ones.

My cats are my life and my reason for breathing, the reason I am still here and ultimately the best thing that ever happened to me.

If you think you could be a candidate as a slave to one of our precious babies please feel free to contact us and tell us a little about yourself.

Our kittens are very precious to us so genuine loving indoor homes only need apply please.